Welcome to Vermont Homebrew Supply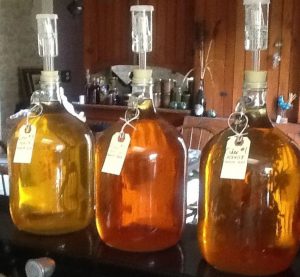 Welcome, you found us!
April 1
Curbside pick up is working! Just give us a call and we will put everything together for you.  You will provide the credit card info over the phone so that you don't even have to enter the store.  Please note that we have shortened our weekday hours. Mon- Sat 10-5
Sunday 11-3
Thanks for your patience and wonderful attitudes about this change in how we do business.  We have plenty of inventory!
March 23
Hello Brewers!  Another update: we are still here!  The phone-in/curbside pick up is working out really well.  A quick call lets us get your order, resolve any questions, and even take your payment info.  So until I post otherwise, this is our new way to be Vermont Homebrew Supply.  And I couldn't update without saying this: Thank you!  You people have been amazingly kind and patient during this time.  Everyone seems to be focused on getting a couple of recipes or a wine kit.  No hoarding or excessive buying.  So for that, we appreciate your attitude.  So consider brewing if you are spending time at home.  And use that sanitizer you mix up for brew day!  I use it for my travel mugs, the bathtub, the stove top grates…..if any group knows how to keep things clean, it's us.  So thanks again, we are glad to be part of the brewing community.  Bear says hi!
March 15 Update:
We are open!  This is a challenging situation we find ourselves in.  We are here and we have plenty of inventory (except t.p.)  We are being very diligent about keeping Vermont Homebrew available for all your brewing needs.  If you are spending more time at home, maybe it's time to brew up a recipe.  If you would like to get a recipe (or anything) but don't want to come into the store, please call us @ (802)655-2070.  We can put your recipe together, take your payment over the phone and have everything ready for you to pick up.  You don't even have to get out of your car!  Try to give us some lead time but we are happy to work with brewers this way.  
Please take care of yourselves & others.  Brewing not only gives you something to do, but something to share.  And if you take the time to support your local homebrew shop, we are very appreciative.  
It doesn't seem possible, but we are now in our 25nd year here in Winooski!  What a great time it is to learn how to homebrew.  You have access to great ingredients, lots of other homebrewers to hang out with and plenty of creative, locally brewed beers, wines and ciders to inspire you.
As always, our brewers are always encouraged and welcome to call with any questions that may arise while you make your homebrewed beers, ciders, wines and meads.
We look forward to seeing you again, or meeting you for the first time,
Anne & Matt , with the increasingly important help from  Terry  and Devon
Have you thought about learning how to brew at home?  We are the oldest and largest homebrew supply store in Vermont.  We have taught hundreds (it's probably thousands) of folks just like you to make excellent beer, cider, meads and wine at home.  Homebrewing is a great hobby, once you master the basics you can brew what you want, the way you want, whenever you want!  The equipment is versatile. You can you the same equipment to make many different homebrews.  We are here to help and will do our best to answer all your questions.
We would love to help you shop for the brewer in your life.  We have boxed recipe kits, made as we sell them, so as fresh as can be!  Bottles and carboys, wort chillers and lots of great presents for brewers.  And, when the choice is unclear, we can write a gift certificate in any amount you like.  Easy for you and the brewer will get to choose.
We sell bulk malt extract, grains (crushed or not) by the quantity you need, not prepackaged.  We have over 20 years of recipes available for you to look through.  We are happy to make changes to any recipe, nothing is put together until you say go!  We speak the language of homebrew.
Thank you for shopping "local", we wouldn't be here if you didn't!
We are open 7 days a week with the exception of some universally acknowledged holidays.
Anne, Matt, Terry 
and Bear